Want to know, how to make or obtain a sponge in Minecraft? Make sure to read the entire article to know how you can make a sponge block in Minecraft. Also, stay tuned for a trick at the end of the article that not a lot of Minecraft players know.
The sponge block in Minecraft can be useful for a variety of things. Either decorating a small aquatic build or draining a huge ocean, sponge is the right block for you! But, obtaining this block might be difficult for some players as it does not have a crafting recipe. Sponge block can only be found spawning naturally in the Minecraft world. But, don't you worry! Take a seat, as this article guides you through all the possible ways you can obtain the sponge block in Minecraft.
How to get sponge in Minecraft:
Here is a list of all the possible ways a player can get the sponge block. This includes different game modes and commands as well.
Survival mode:

In survival mode, the player will have to find a structure to acquire sponge. Ocean Monument is the only structure in the game where players can find sponge blocks. The ocean monument has three Elder Guardians inside, which give the player 'Mining fatigue' potion effect. This effect stops players from mining any blocks when in the vicinity. So, to gather any blocks from the ocean monument, you will have to first defeat all the three Elder guardians inside the monument. Elder guardians are a hostile mob and one of the three Minecraft bosses.
You should carry 'Water breathing' potions to assist you in this quest. Java edition players can also carry 'doors' with them. A door block when placed underwater, creates an air pocket where the players can stay without drowning.
Once, you have defeated the elder guardians, wait for the 'Mining fatigue' to wear off.  You can also consume a 'milk bucket' to get rid of the effect instantly. After that look around in the 'Ocean monument'. You should find a small room with wet sponge blocks in it. Use the 'hoe' tool to collect the blocks. To turn those 'Wet sponge blocks' into normal ones, smelt them in a furnace. This is how you get the sponge block in survival mode Minecraft.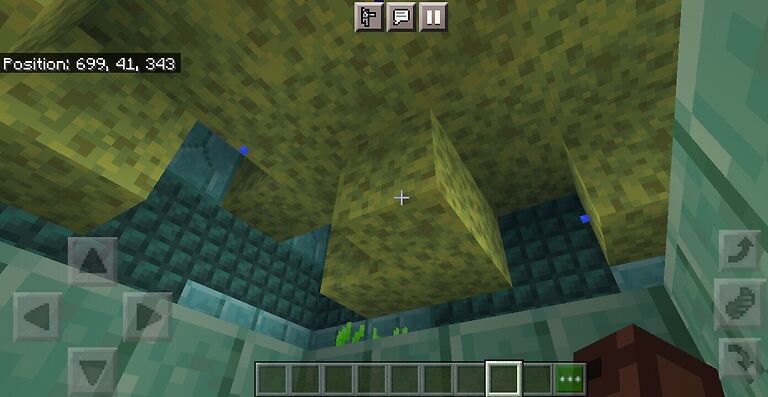 Also, keep in mind that, the elder guardians drop one sponge block each when defeated. This number is not affected by the 'Looting' enchantment.
Creative mode:
In creative mode, players can find the sponge block in the 'creative menu'. For Java edition, sponge is located in the 'Building blocks' tab. Players on other platforms should be able to find the block in the 'Nature' tab. If you are playing on an old version of Minecraft, you should check the 'Decorations' tab. You can also search for 'Sponge' in the search box, in the creative menu.
'Give' Command:
Players can use the "/give" command to get sponge in Minecraft. Commands can be used in a single player world by allowing cheats. To use commands in a multiplayer server, players must have operator access.
The command for Pocket edition, PS, Xbox, Nintendo and Windows 10 is as follows –
/give @p sponge 1 0
The command for Java edition players is – /give @p sponge 1

Additional tip:
Smelting the wet sponge block to get the normal, 'dry' sponge block is the common route that most players take. But this method can be really time consuming especially, if you're dealing with a huge project. So, to save some time, gather all your wet sponge blocks and hop into the 'Nether'. Because, players aren't allowed to place water in the Nether realm, as soon as you place the wet sponge block in the Nether, it turns into the normal sponge block.
This trick can be really useful to dry out a huge number of sponge blocks.
So, this is how you can get or make sponge in Minecraft. For more Minecraft tips and tricks, stay tuned to ANDROIDGRAM.