Unable to run iRacing in full-screen? Well, that's a bummer! We agree that full-screen gaming is always more acceptable than windowed, and this is especially true for racing games. In this case, the popular online racing sim always supported full-screen experiences. However, a few years ago, a patch was deployed in the game which reportedly broke the game's full-screen mode in the UI. Several users were unable to hide the taskbar showing up, which is basically a windowed mode. Fortunately, many were able to fix this problem by fidgetting with the game files or using a shortcut key workaround. So, if you are annoyed with this particular issue in iRacing UI, stay tuned till the end to fix it!
One look at iRacing's membership plans can get racing game fans extremely happy! On-demand subscriptions are a great way to save money on purchases, and only own stuff you want. iRacing isn't like Forza Horizon or F1, where you pay a one-time fee and get access to everything, forever. Well, not everything – you may also choose to use in-game currency and buy more content in Forza or other racing games. What separates iRacing's offering from titles like Forza is the "realism". In iRacing, you can buy cars and tracks and further participate in real-time races where racers from across the world compete against you. Forza's forgiving nature suits all kinds of gamers, even ones without racing interests. On the other hand, iRacing is extremely professional and requires you to know a great deal about the world of motorsport.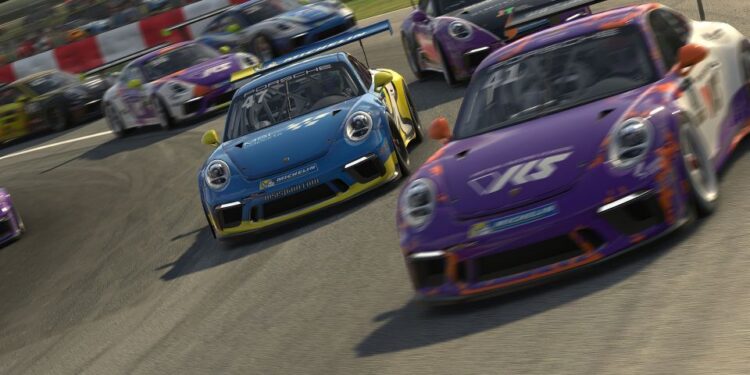 How to get iRacing to run in full-screen mode?
Although the popular sim has its share of pros, iRacing isn't the best in terms of quality. You would often find bugs loitering in the UI, or unknown errors popping up out of nowhere. Being an all-online service, iRacing does have a tough time trying to maintain the servers. However, users cannot reason with the in-app and website bugs. The full-screen issue in iRacing UI has been there for years, with users complaining about no straight way to play the game in full-screen. There are a few workarounds to change this, but it will take you some trial and error to make it work. Try the following tips by users:
1) LeftAlt + Enter keys should open up iRacing in full-screen mode. If it doesn't work, try spamming the combination of keys until the UI switches to full-screen. Note that only the left alt key will work; don't use the right alt key.
2) Open up File Explorer and head over to This PC > My Documents > iRacing. Locate the app.ini file and open it with Notepad or a similar text editor app. Here, set the following variables accordingly:
fullscreen=1
reduceFramerateWhenFocusLost=0
Save changes and try launching the game.
3) Another thing you could try is locking your taskbar. Right-click on the taskbar, and select Taskbar Settings. Here, you will find an option to "Automatically hide the taskbar". In Windows 10/11, it will be under Taskbar behaviors. Check that option and see whether the issue persists in iRacing UI.
Also Read: How to invite friends and play multiplayer in Forza Horizon (FH) 5?
4) Use a third-party app like Windows Borderless Gaming, that will let you go borderless full-screen when the UI doesn't allow you to.
5) Again, a third-party app like Team Viewer or Discord could be the reason behind this problem. Quit such applications and re-launch iRacing UI to check whether the issue persists.
That's all you could try for iRacing's fullscreen issue. Additionally, make sure that you update the client to the latest available version; pending updates could also be a reason behind this issue. If nothing seems to resolve your issue, you should contact iRacing's support regarding the same.