Today, I will talk about Obsidian's upcoming highly anticipated first-person fantasy RPG called Avowed. Now we don't have a ton of information on this game, but I will talk about what we know and go over some speculation. Let's jump right in. So, first things first! Avowed is being developed by Obsidian entertainment. An American video game development company based out of California. Obsidian has been around since 2003 and is well known for titles such as the Outer worlds, Fallout New Vegas, Star Wars Knights of the old republic, and for CRPG fans – Pillars of Eternity: Tyranny and Neverwinter Nights.
Bethesda seemingly keeps re-releasing Skyrim instead of giving us the Elder Scrolls 6. Now, I'm sure Bethesda is hard at work on test for Elder Scrolls 6, but at this point, most of us have learned to quell our hype, at least temporarily. Hopefully, Avowed can be the game to hold this over or maybe even be a contender for the best first-person RPG for the 2020s.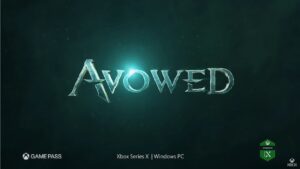 Is There Avowed PS5, PS4 & Nintendo Switch Release Date?
Obsidian has a fairly impressive resume. Generally speaking, they seem to be a versatile and well-liked company in the gaming industry, which is a very good thing for Avowed. It is important to point out that like Bethesda, Obsidian was also acquired by Microsoft back in 2018. So, PlayStation fans shouldn't get too excited about this game. As of now, it has only been confirmed for Xbox Series X|S consoles and Windows PC.
Here's a piece of news for those of you who own or planning to buy an Xbox Series X or S. Avowed is being created and optimized only for next-gen hardware. In other words, Obsidian will be taking full advantage of all the capabilities of the newest Xbox consoles featuring powerful hardware. Avowed will not release on Xbox One (prev-gen console). Also, note that Avowed is confirmed to be coming to Xbox Game Pass on day one. This trailer is the only one we have been blessed with up to this point, and it was released all the way back in June 2020.
Since then, Obsidian has been mostly silent. Many gamers were hoping for a new trailer during the Game Awards 2021. Unfortunately, we didn't get another trailer. As mentioned before, Avowed is a first-person fantasy RPG. If you had to compare it to any other game, most would, of course, say the Elder Scrolls and Skyrim. I think that going this first-person route for a fantasy RPG is probably a great market to get into, as many of us gamers have been itching for games in this category.
When will Avowed release?
Regarding Avowed's release date, we do not have anything official, but according to insider information, late 2022 or 2023 is the goal. There was also a supposed GeForce Now leak that was posted to a GitHub thread regarding the release date. It claimed that Avowed is expected to release on December 7th of 2022 – just a year from now.
It's already hard enough to believe release dates when announced by the devs themselves. So, who knows if this leak is anything of value. Avowed will take place in the world of Aora, which is the same setting that Obsidian's Pillars of eternity games take place in. Aora is a medieval fantasy setting with various continents, islands, mysterious creatures, and lots of magic. It has been said that there will be plenty of quests and exploration to keep gamers busy.
Although not 100% confirmed to be an open-world game, multiple leaks say Avowed may be one. I think the open-world genre probably is the most likely route that Obsidian is going down. It's not only just a very successful and highly demanded RPG formula but also hearing them talk about exploration, and the general vibe that the trailer gives off seems to line up.