Facing the error code 1023 while trying to use Netflix? Most error codes that appear on Netflix have extensive documentation. However, the error code 1023 seems to be a rare Netflix error. However, it's easy to troubleshoot most errors on Netflix. Read this article to know how to fix the Netflix error code -1023.
Netflix is one of the most popular content streaming services in the world. Well, we cannot deny the fact that we spend hours watching our favorites on Netflix every weekend. Be it movies, comedy shows, television series, and even documentaries – Netflix is our go-to platform for all kinds of online entertainment. However, our favorite streaming platform is not immune to errors and bugs. If you have run into a problem while watching your favorite show and your phone screen shows an error code -1023, it's time for some troubleshooting! Let's get this issue fixed for you, shall we?
What does the Netflix error code -1023 mean?
As mentioned before, the Netflix error code -1023 is incredibly rare and there's no official documentation regarding the same. However, we have come across a user's tweet reporting the error code to Netflix CS:
why do I keep getting this error on Android. App version: Version 7.79.1 build 14 35169. This error and couple of other similar to this. Everytime I have to forcefully stop the app/service. Has this been reported or something wrong with my device! – @pkvsinha, a Twitter user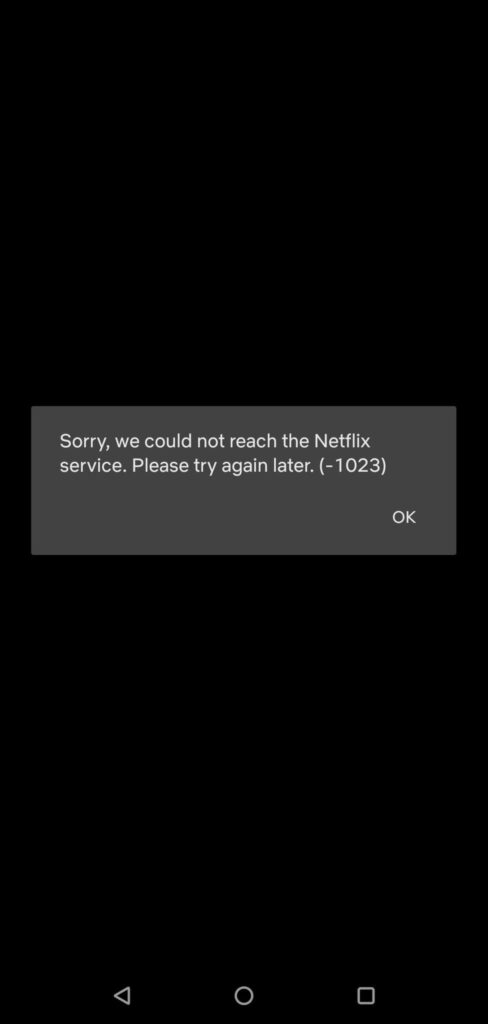 Netflix CS replied with a suggestion to update the app to the latest version. But, the user was already on the updated version of the app. Netflix CS later acknowledged that the error code -1023 is a known issue on Android devices and is under investigation. However, no working fix was suggested for that particular error henceforth. Nevertheless, don't worry. We will help you troubleshoot the error code -1023 and get your Netflix app up and running in no time. Keep reading this article.
Also Read: Netflix error 40103: What is it & how to fix it?
Fixes and Workarounds
We may not have come across official documentation for the exact error code 1023. However, we have noticed the error message which says – "Sorry, we couldn't reach the Netflix service. Please try again later.". The same error message appears for common Netflix error codes like -1001. As it happens, we have collected a few tips from officials and users to help you troubleshoot the Netflix error -1023. So, here are the fixes and workarounds that can help you solve the -1023 error:
1) Force Stop the Netflix app and relaunch it: Tap and hold the app for a few seconds until you see the i button. Tap on it to open the app settings. Lastly, tap on Force Stop and then OK. This may help you solve the issue.
2) Update the Netflix app: If you haven't updated the Netflix app yet, get it done now. Developers release bug fixes with patch updates. Netflix app, when not on the latest version, can throw rare errors like -1023.
3) Troubleshoot your network connectivity: Similar errors like 1001 occur due to network issues. A slow or unstable internet connection may be the reason why the Netflix app on your device is unable to connect to the Netflix service. Try a different internet connection or use mobile data – make sure that your internet is not causing the error to appear.
4) Restart your device: Sometimes, a restart can work wonders for a troubleshooting process!
5) Try reinstalling the Netflix app: If none of the above works (unlikely!), try uninstalling and reinstalling the Netflix app.
For more error troubleshooting guides, stay tuned to Androidgram!