Palia is a widely known open-world game that recently started inviting more players to its in-game world. Well, it's currently in open beta, but we know this much: it'll be released sometime around Q4 of 2023. Well, what's more fun than walking in the huge open world of Palia? It's flying. And, with the help of the glider, everyone can fly across the landscapes in the game. But how do you get the Glider in Palia? Let's find out.
The glider has a similar appearance and usage, just like what we have seen in Genshin Impact. Upon jumping from high places, the character uses the glider to glide through the air instead of falling flat. You can traverse the wide landscapes and different biomes of the game using the glider and reach unreachable places. That said, here's everything you need to know about getting it.
Palia Glider: How to get & unlock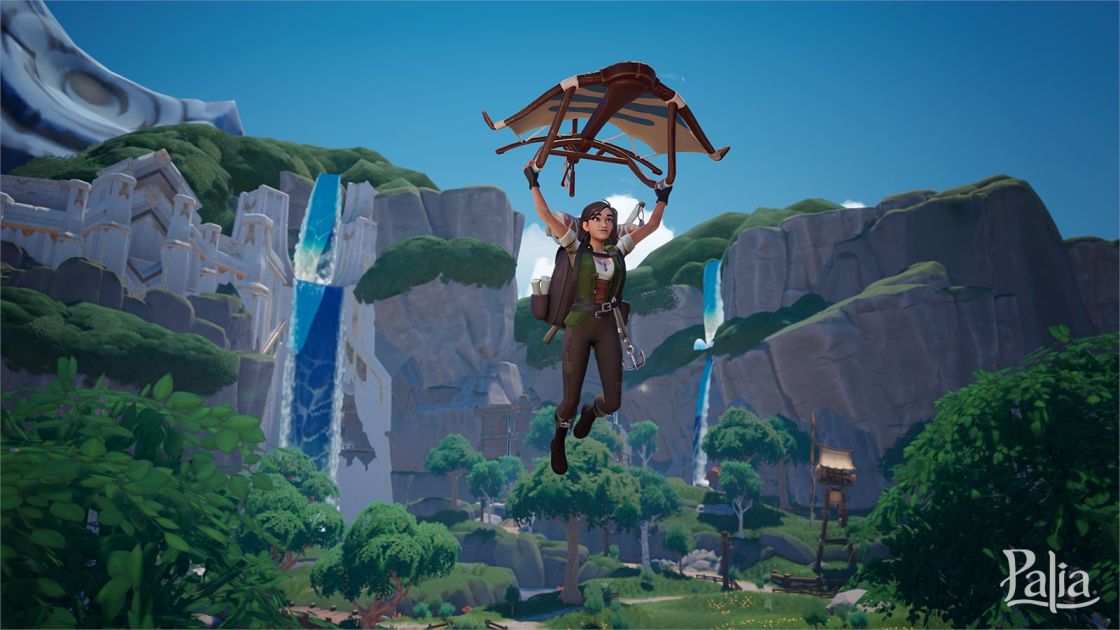 Most useful items are acquired through playing the story mode, and Glider is no exception to that. Once you have acquired the Glider, you can start covering long distances by jumping from a high place. This saves lots of time, and most importantly, it is fun. Also, one of the main reasons for getting a glider is to reach an Ancient Ruin or Chamber. You will notice this once the Ancient Battery quest has been completed. A new door will open, showing you the chamber. But now, you have a large gap between the ruins which can only be crossed by a Glider. So let's see what the requirements are for obtaining your very own Glider:
Like a Bird
This is the name of a quest in your main story mode. Eventually, you will come across a female inventor and miner called Najuma. She has purple-looking skin and orange hair, so finding her won't be that big of a deal. You can usually locate her in Bahari Bay. Interacting with her will give you this quest, where she asks you to gather some items as follows:
x3 Sapwood Plank
x2 Fabric
x5 Leather
All of these items or materials need to be crafted using various items. However, to craft them, you need level 2 Forging and Furniture-making abilities. After that, you can craft Sapwood planks using the Basic sawmill, however, to craft Fabric, you will need Loom and Cotton, and then refine them in the Fabric Loom. Also, to get Leather, you will some Sernuk Hide, and refine it. Both Fabric and Leather can be purchased from Tish for 190 and 60 Gold respectively.
Get the Glider
Once all requirements have been met, go and give Najuma all the material that she asked for. After this, you will get the Glider from her. Now, you can use it to complete your journey of exploring the Ancient Chamber. After you solve the riddle of the Ancient Chamber, you will need to jump over a big gap to arrive on the other side to explore further areas of the chamber. Without a glider, it's impossible to cross the gap, and that's why talking to Najuma in Palia is a mandatory part that everyone will eventually come across.
Some may think, why can't they see the Glider in the Tool Wheel? Even we don't know for sure. Anyway, the trick to using it is very simple. If you didn't already know, jumping from a high place won't automatically make your character use the Glider, even after you have acquired it. After jumping, you must press the Space Key one more time to use the Glider. It is a bit confusing, but once you get used to it, your in-game journey will be quite smooth. That said, we hope this guide cleared up all doubts regarding the Glider and its usage in Palia. If it did, then make sure to follow Android Gram for more.