Nobility needs to be battled with in Pokemon Legends Arceus! Five Noble Pokemons wait for you in Hisui – you will have to defeat every one of them as a part of the main campaign. Noble Pokemons are basically bosses – they are extremely overpowered. You will need a combination of stealth, passive, and aggressive approaches to defeat them. Well, you can choose to be just aggressive. But, it will require you to have a strong Pokemon team and participate in a ferocious battle where there's a high chance of your fainting at the end! Our guide will help you understand how to approach any boss (or Noble Pokemon) alongside listing the different bosses available for you to defeat in Pokemon Legends Arceus. Stay tuned!
While there are five Noble Pokemons that are considered bosses, you will also come across Dialga or Palkia and our showstopper, Arceus. Battles with Dialga/Palkia are also a part of the main campaign – the final one, to be precise! For the battle with Arceus, you will need to complete the main campaign, some requests, and also complete your Pokedex of 240 Pokemons. As a result, there are not five but a total of seven bosses you will need to battle in Pokemon Legends Arceus. Seven Boss Battles! Keep reading to find out more.
How to approach any Noble boss battle?
As we mentioned before, you can choose to be aggressive or play the "stealth and passive" card. Or, you can choose to apply a combination of all three. When you decide to complete a main mission which consists of defeating any of the bosses, you will be prepared for the battle by NPCs. You will receive balms and learn to craft the favorite food item of the boss you are planning to approach. Once you are done collecting enough balms and food items, head over to the boss's location.
When you approach a "Frenzied" Noble Pokemon, you will see a yellow "Frenzy" meter above them. Your main goal is to deplete that! These are extremely aggressive Pokemons and will attack at the very sight of you. Try dodging their attacks (press Y) while studying their attacking pattern. As soon as you find openings, throw balms to calm down the beast. Keep throwing until the Pokemon is tired – you can send out your team to attack the beast at that moment. The beast will regain its strength and start attacking again, and you will need to return to dodging and throwing balms. Keep following this process until its Frenzy meter depletes completely [defeated successfully!].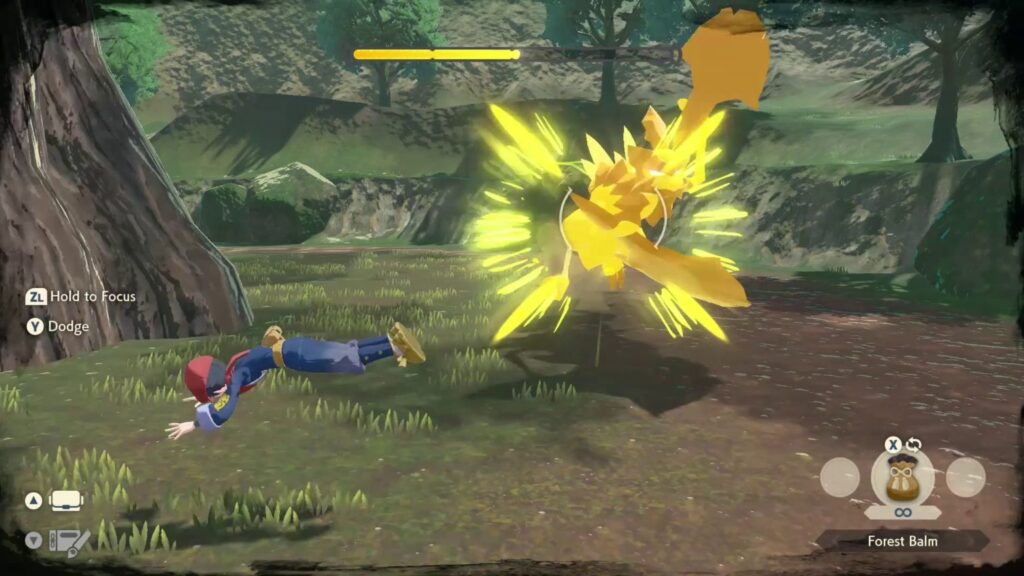 How to approach Dialga/Palkia or Arceus?
You will need to choose either Dialga or Palkia – you won't be battling both. Nevertheless, the process to battle Dialga, Palkia, or Arceus is almost the same as Noble Frenzied Pokemons. Except for the fact that they are even more powerful and their battles will be longer! Either way, you will need to throw balms and food at them whenever you catch an opening and send your Pokemons to battle whenever they tire out. However, in the case of Arceus, make sure you carry a lot of potions to heal and boost yourself as this will be the longest boss battle you will encounter.
List of Boss Battles in Pokemon Legends Arceus
Here's a complete list of seven boss battles you will encounter [in order] in Pokemon Legends Arceus:
1) Noble Frenzied Kleavor [Obsidian Fieldlands]
2) Hisuian Lilligant [Crimson Mirelands]
3) Hisuian Arcanine [Cobalt Coastlands]
4) Hisuian Electrode [Coronet Highlands]
5) Hisuian Avalugg [Alabaster Icelands]
6) Dialga/Palkia Origin forms [Coronet Highlands]
7) Arceus [Coronet Highlands]