Unable to buy a subscription or Twitch bits using PayPal? Unfortunately, this is a fairly common complaint among users. At the moment, you can pay a Twitch subscription fee or buy bits using credit/debit cards, Amazon Pay, Xsolla, PayPal, and some gift cards. You can even subscribe to Twitch via Amazon Prime, in the form of Prime Gaming.  Although Twitch provides a lot of options for payment methods, PayPal seems to be a very common choice. However, many have reported not being able to go through with PayPal payments on Twitch. Are you affected too? Don't worry; we will help you fix it as soon as possible!
How to fix Twitch not accepting payments via PayPal?
If you are unable to subscribe to your favorite content creator's Twitch channel or buy bits using PayPal, here's how you can troubleshoot the situation:
1) Firstly, click/tap on the Try Again option and redo the payment process.
2) Check whether the credit/debit card you are using on PayPal has enough balance. This is the most probable cause for the 'Twitch not accepting PayPal' issue.
3) If you are unable to use your PayPal balance, try using a debit/credit card instead. Some users have reported that they are unable to use PayPal balance to get things done. If you are hellbent to use your PayPal balance but are unable to do so due to an error, contact PayPal support.
4) Make sure you aren't using a VPN service. If you are, disable it and then try the payment process.
5) If you are unable to go through with the payment on the Twitch app, try using the website via a browser and vice versa.
If the above doesn't help, it is possible that PayPal is experiencing a server issue. It is a fairly common situation with online payment processes, especially for popular services like PayPal. Alternatively, it could be Twitch's issue too. In such cases, we recommend trying the payment process after a while, maybe a couple of hours later.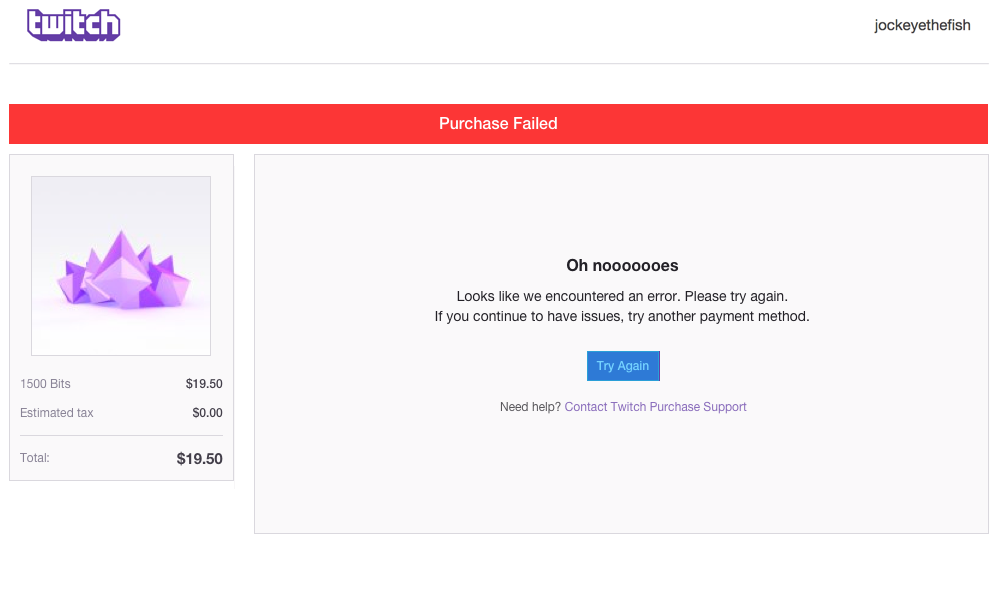 Another possible reason, as pointed out by Twitch support, is your PayPal account may have been labeled as high risk by the officials. This is done to stop fraudulent activity. Using a VPN service to spoof your location or an invalid billing address may lead to such a situation. Hence, refrain from such activities or try adding a new payment method.
Also, Twitch doesn't allow some high-risk PayPal payment methods. So, check if your fund source is any of the following:
– Direct Debit
– E-Check
– Bank Transfer
– Giropay
If so, you will not be able to purchase bits using PayPal. Add a different fund source (like a credit/debit card) for PayPal to be able to use it.
Another possible reason why Twitch is not accepting Paypal may be insufficient funds or a problem on your bank's side. In that case, the payment will not go through. Contact your bank for help in this matter. But if none of the above situations fit yours or the workarounds don't help, contact Twitch Purchase support for further help.