Is Twitch not accepting your phone number? These types of issues are fairly common for the popular streaming platform. Twitch added the phone verification feature to enhance the safety and legitimacy of its users. This was a great decision to filter out bots and troll accounts. But, a lot of peeps seem to be having problems when trying to verify themselves. This creates further problems as many popular streamers have switched to the "only verified" chats. So if your account is not verified, you will not be able to join your favorite streamer's chat. In this article, we will tell you how you can fix the 'Twitch not accepting phone number' issue.
Twitch is the first choice of people looking to live stream video games or watch their favorite content creators. This platform allows you to stream anything you do: video gaming, singing, cooking, podcasting, and much more. Launched ten years ago in 2011, Twitch has built a massive user base. The platform gives exposure to great content creators and helps them to reach a bigger audience. It also broadcasts live esports tournaments which usually have a huge viewer count. This in return, generates fairly good money for the company. Twitch's rules and features have morphed over the years to provide a better user experience. The phone verification feature is just another one on the list.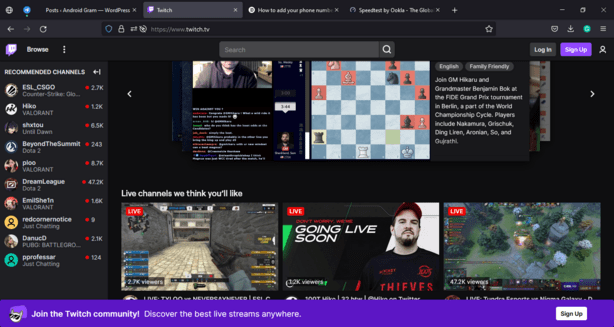 How to add a phone number on twitch?
Before we begin with the issue, make sure that you are following the right steps to add the phone number. Most people miss some steps that cause similar issues.
1) Open the Twitch website and log into your account.
2) Now, head over to the Settings > Security option.
3) Next, locate the Contracts section and you will find an option to add both your email id and the phone number.
4) Click on edit and add a phone number. This will start a verification process.
5) Once you save your number, Twitch will send you a six-digit long verification code on your number.
6) Add this code to the new window that should have popped up on the Twitch website.
7) Once the code is successfully added, Twitch will confirm the verification of your number.
Twitch not accepting phone numbers: Fixes & Workarounds.
Now, if Twitch is not accepting your phone number, then it is a whole separate issue. There are several causes for this problem. We have mentioned them below and the possible solutions to fix them.
1) Make sure that your phone number is not connected to another account. This is the biggest reason for Twitch not accepting the number issue. So, if your number is connected to another account, then either remove it or enable the option to use the number for various accounts.
2) Your account has been suspended/banned. If Twitch has put restrictions on your account, then you might not be able to add the phone number.
3) The 2FA (Two-Factor Authentication) can sometimes hinder the phone verification process. So you can try to disable this feature and then try adding your phone number.
4) Make sure that your phone number is active because Twitch sends a verification code to the number.
5) If nothing else works, then you should try to submit a ticket to Twitch for further help.
So, these were some methods to fix the Twitch not accepting the phone number issue. We hope this article was helpful for you. You can also read our other article on How to fix the Twitch not accepting email issue. Stay tuned to Android Gram and happy gaming!