Are you facing trouble with the menu on your Vizio TV? You might want to take a look at this article. This article has all the probable reasons that might be causing the 'Menu' option to behave oddly on your Vizio TV. We will also tell you how you can solve the Vizio TV menu not working easily.
Vizio TV users can face a variety of problems with the menu option. For some users, the menu option might pop up randomly and for some, it might just not go away. There is also a chance that the menu doesn't navigate according to the buttons pressed on the remote. Whatever your case might be, the troubleshooting methods mentioned below will definitely help your situation. For your convenience, we have divided the list of troubleshooting between the ones for your remote and the ones for your TV.
Related: Can you add apps on Vizio Smart Tv?
How to get Airplay on Vizio TV
Fixes for Vizio TV remote if unable to navigate menu:
1) Batteries –
The problem you are facing with the menu might have something to do with your remote batteries. This can happen when the remote batteries are almost out of power. So the first thing you would want to do is change the batteries with a new set. Now try using the remote to navigate in the menu section of your Vizio TV. If the problem still persists, check the next step.
2) Stuck Buttons –
Some buttons on your remote might be stuck. So take out the batteries from your remote and press all the buttons aggressively. This will release any buttons that are stuck. Put the batteries back in and check if things have returned to normal. If you're still facing the same issue, it might be time to move on to the troubleshooting steps for your Vizio TV.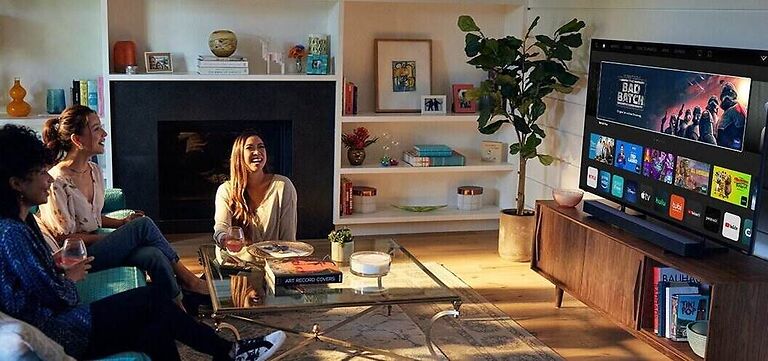 Fixes for Vizio TV menu not working:
1) Power cycle your TV:
Turn off your Visio TV using the power button on your remote. Then unplug the power cables and wait for a few minutes. Plug the power cables back and turn on your TV. Access the menu and other features to test the TV. If the Vizio TV menu is still not working, then take a look at the next step.
2) Make sure your internet is stable:
Sometimes, unstable internet can cause your television to freeze on a particular window. Although rare, it may block you from navigating your Vizio TV's menu options. Troubleshoot your internet connection: restart your router and try moving the TV close to it. If you figure that your internet connection is unstable and no amount of troubleshooting helps, contact your ISP for help to fix your unstable internet connection!
3) Factory reset:
This step might seem a bit extreme for some users. But, if the above methods fail, this is the only option to fix your situation. To factory reset your Vizio TV, press the menu button on your remote. Go to 'System' > 'Reset and admin' > 'Reset to factory settings'.
To factory reset your TV without a remote, press and hold the 'Volume down' button and the 'Input' button behind your TV. A pop-up will appear, asking you to press hold the input button again. Do that and your TV will reset all data and settings to factory default. After this step, you will have to set up your Vizio TV from scratch [follow on-screen instructions]. But, it should definitely solve the 'Vizio TV menu not working' issue.