Are you finding it difficult to figure out the use for 'Feather falling' in Minecraft? Then here is a brief guide that explains each and every detail about it!
Among all the armor pieces in Minecraft, enchanting the boots is the most difficult. That is because a maxed-out pair of boots has seven enchantments. Which is the highest number of enchantments among all the armor pieces. Boots in Minecraft can hold the following enchantments – Protection (of any one type), Unbreaking, Mending, Thorns, Soul speed, Depth Strider/Frost walker, and Feather falling. It is natural for a player to get confused with so many enchantments that can go on a single piece of armor. Knowing what every enchantment does will only come after a lot of practice and enchanting. Meanwhile, let's dig into a specific enchantment that goes on the boots in Minecraft called feather falling.
Father falling in Minecraft is one of the most common and obvious enchantments. When enchanting your boots, not adding a feather falling to them would be the worst thing to do. Essentially, feather falling reduces the fall damage taken by the player. It sounds useless, but wait till you see it in action. Feather falling has four levels which mean, players can get up to feather falling 4 on their boots. And each level of feather falling reduces the fall damage by 12%. So a pair of boots with feather falling 4 will reduce the fall damage by 48%! But it does not end there. Protection on any armor piece also contributes towards the reduction of fall damage taken by the player. If you manage to get protection 4 on all of your armor pieces along with feather falling 4 on your boots, the fall damage reduces to 80%! This combination proves to be a great lifesaver on many occasions. Especially now, when all the caves and mountains are huge.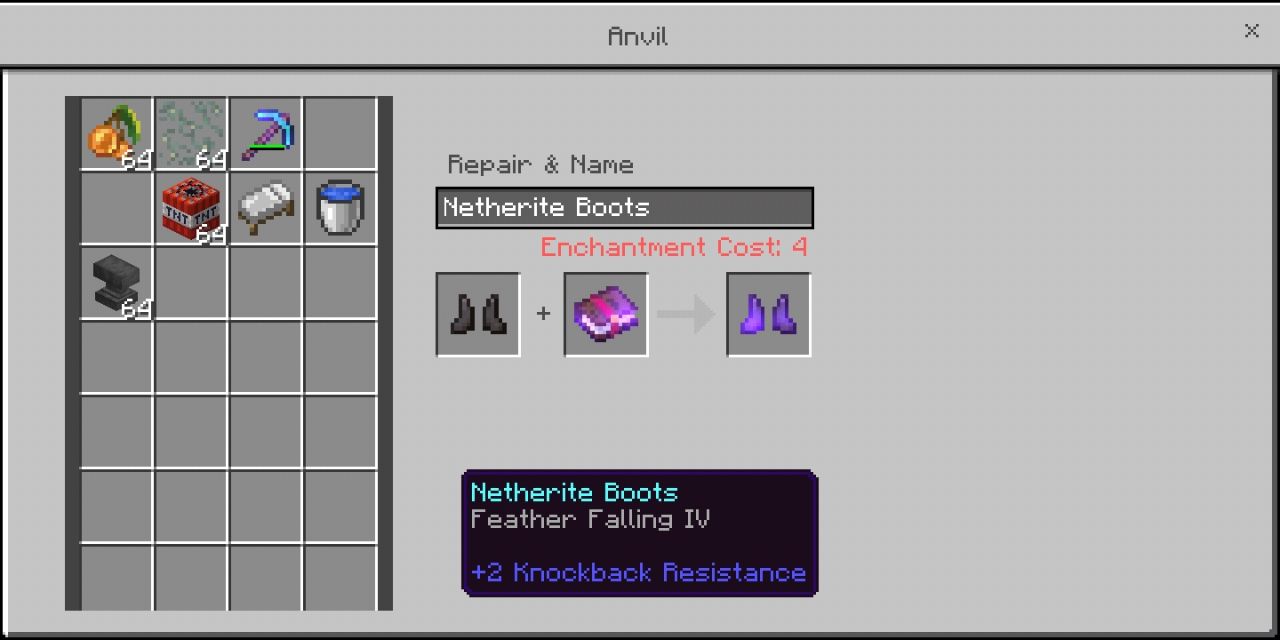 How to get Feather falling in Minecraft:
Feather falling in Minecraft is not as easily available as you might think. The enchanting table is the primary source of enchantments for many players. It is easier and more precise. With a couple of cycles, you can find the correct enchantments to initiate the long process of getting the perfect gear. However, do not get your hopes high for feather falling. The chance of getting feather falling on your boots in Minecraft is 2.7%. You can still give it a try, but don't mind wasting a lot of XP just for this single enchantment. In my opinion, cycling the librarian villager trades is a good way to tackle this. It is always better to have a librarian villager for all the enchantments that go on the tools and weapons in Minecraft. But in this rare case, you might as well find a villager that trades feather falling books. It will come in handy if you happen to lose your boots for some reason.
If you don't prefer trading with villagers, you can try looting different structures that have enchanted books. Your best bet would be the stronghold. If you haven't tried looking for the stronghold in your world, give it a go. The partially broken-down library in the stronghold usually has pretty decent enchanted books. You can also try fishing for the feather falling enchantment in Minecraft. Fishing is an easy and passive way to acquire a ton of loot and enchanted books!