Unable to make things work with Forza Horizon 5? We will help you reach the racing tracks as soon as possible! Forza Horizon 5 has managed to win a lot of hearts since its launch. However, the game isn't immune to errors and bugs. While the internal errors and bugs belong to the developers' field, we can certainly help you fix any issues on your platform. Believe it or not, some issues are triggered by our systems and need to be addressed by us! So, here's a (huge) list of fixes and workarounds to help you solve (almost) all kinds of issues you may face while trying to launch or play Forza Horizon 5.
Forza Horizon (FH) 5 not launching, crashing, black screen on loading: Fixes & Workarounds
Try the following fixes/workarounds:-
1) If you play Forza Horizon from the Xbox app or Microsoft Store app, try the relogin process.
If you use the Xbox app or Microsoft store app, log out from both apps. This will refresh any corrupted login data. Log back in, and then try launching the game. This workaround may solve the launch or black screen issue in the game.
2) Make sure you are logged in with the same account on Microsoft Store and Xbox App.
If you are logged in to Microsoft Store and Xbox App with two different accounts, it may cause an authentication issue leading to launch issues or Microsoft Security errors. Before launching Forza Horizon 5, check whether you have used the same account to log in to the Xbox app and Microsoft Store app.
3) Make sure that the date and time on your PC are set correctly.
This is a very common workaround known to work wonders. You can check your PC's date and time from Windows Settings or the Taskbar. If you find discrepancies, head over to Date & time settings and set the correct time and date. Try launching Forza Horizon 5 now.
4) Your anti-virus may be blocking Forza Horizon 5. Try this.
If you use Windows Defender, you will need to allow Forza Horizon 5 to access controlled folders. To do so:
– Open Start Menu and type Virus & threat protection in the search bar.
– Open it and select Manage settings.
– Select Manage Controlled folder access under Controlled folder access.
– Lastly, switch the Controlled folder access setting to On.
Make sure you add Forza Horizon 5 to the list of allowed apps, if not present already.
If you use a third-party anti-virus, disable it while playing Forza Horizon 5 and check whether you still face launch issues. You can also add the game's executable file to the list of allowed apps from your anti-virus app.
Also Read: Forza Horizon (FH) 5: How to turn off music?
5) Unplug extra hardware devices you don't use while playing Forza Horizon 5.
Unplug devices like headsets, pen drives, or others that you are not using to play the game. Reports suggest that plugging extra devices can cause random errors to pop up or even crashes while trying to join an online match.
6) Install/Reinstall/Update the Visual C++ files on your PC.
Many players were able to solve launch errors and in-game crashes by downloading or updating Visual C++ files. However, make sure you download the right one as per your system architecture. Download Visual C++ files from the following links for your respective architecture:
– ARM64
– x86
– x64
7) If you have a Windows 10 N Edition, you will need to download a Media Feature Pack.
For more information and download links, visit the Microsoft Support page for Media Feature Pack. Make sure you check your version of Windows and download the feature pack according to that.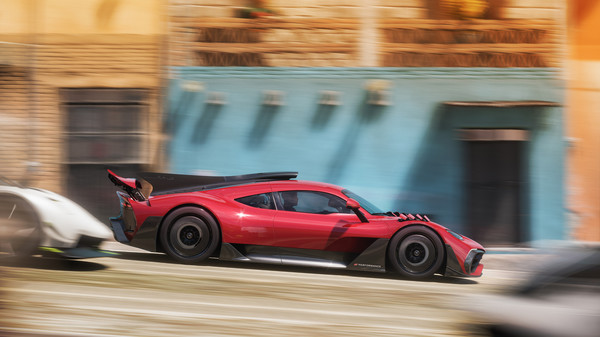 8) Try running the Forza Horizon 5 executable as an Administrator.
Locate the installation directory and then the executable file of Forza Horizon 5 (usually at C:\Program Files (x86)\ForzaHorizon5 or Steam folder). Right-click on it and select Run as administrator.
9) Keep your graphics drivers updated or perform a clean install.
You can use the GeForce Experience app or the AMD Radeon app to keep a check on pending updates. You can also download new drivers for AMD or NVIDIA from their official websites.
10) If your laptop or PC runs on two graphics cards, make sure your games use the dedicated one.
You can open the control panel for your graphics card (right-click anywhere on Desktop and select the option for your graphics card) and check the card Forza Horizon is running on. Set it to the High-Performance graphics card, if on Integrated card.
11) If you play Forza Horizon 5 via Steam, verify the integrity of game files.
Head over to your Steam library, right-click on Forza Horizon 5, and select Properties. Open the Local Files tab and select Verify Integrity of game files… option. Once the process completes, try launching Forza Horizon 5.
12) If you are unable to complete your Windows update, try the Media Creation Tool.
Pending Windows updates are a known cause of random crashes in apps and video games. If you notice an unresponsive security or feature update, try using the Windows Update Assistant.
How to fix crashing, freezing, or frame drops in Forza Horizon?
Try the following fixes/workarounds for issues with Forza Horizon 5's stability:-
1) Disable Steam Overlay or any overlay application, if enabled. Overlay applications can cause severe performance issues at times. Many Forza Horizon 5 players have reported fewer occurrences of crashes and frame drops with overlay applications disabled.
2) We recommend you close all background applications as a lot of running apps can cause lags and frame drops in your game. You can also read this article to know how to play the game in high FPS.
3) If the above doesn't work, it's time you change your in-game graphics settings – your computer may not be powerful enough to run the game at high graphics settings. Open Options from the lobby and then navigate to the Video tab. Here you can turn off HDR, lower your resolution, limit frame rate, turn off Vertical Synchronization (or, Vsync), and turn off Full-Screen. Next, move on to the Graphics tab and set everything to a lower setting – for example, High or Medium.
If none of the above fixes/workarounds are able to solve the problem for you (unlikely!), the best thing to do is to reinstall the game entirely. We hope this guide will solve the issue for you! Stay tuned to us for more.