Unable to invite your friends to team up on Rainbow Six Siege? That's a shame; the popular first-person shooter by Ubisoft oozes co-op and tactical gameplay. A team of friends is likely to win a game of R6 more than a squad of randoms. Well, multiplayer is a common area to get bugged in most online games. The great thing about this situation is that you, the user, can easily troubleshoot and find out what's up. If it's not an issue on your side, Ubisoft could be experiencing a server outage or a bottleneck. All of this may sound confusing to you, but don't worry. Here's an article that is all ready to help you troubleshoot the multiplayer feature of Rainbow Six Siege.
How to fix Rainbow Six Siege multiplayer not working in 2022?
One major reason why your favorite game may not be allowing you to team up maybe an unstable internet connection. Ubisoft recommends extensive network troubleshooting to fix this problem. Here's what all you can do regarding a bad network connection:
1) Reboot your router and modem:
It is important that you perform a power cycle of your router. Switch off the router and unplug all cables from it. Make sure you switch off the modem too. Let both the devices be for around a minute or two. Now, plug all cables in place and switch both the devices on. Try reconnecting to the internet and check whether the issue with Rainbow Six Siege's multiplayer persists.
2) Try a wired connection: 
Wireless connections can be notorious, believe it or not. Although WiFi may seem more convenient, using a wired connection [if possible] is the best bet to getting stable network speeds.
3) Disable programs that could be blocking online activity:
Sometimes, anti-virus programs could be stopping the game from functioning normally. This doesn't happen because of malware; anti-virus programs often behave overly vigilant. In such cases, try disabling a third-party anti-virus program and reconnecting to a multiplayer session. If you are using Windows Defender, make sure you add Rainbow Six Siege's executable to the Controlled Folder Access setting [search for this setting on Windows Search Bar].
4) Enable uPnP:
Another thing Ubisoft suggests is to enable a highly debatable set of network protocols known as Universal Plug & Play or uPnP. If you don't want to enable uPnP, you can proceed to the next step. If you do, you will have to contact your ISP for further details regarding this.
5) Forward ports, to establish an open NAT connection:
The following ports are for Rainbow Six Siege:
TCP: 13000, 13005, 13200, 14000, 14001, 14008, 14020, 14021, 14022, 14023, 14024
UDP: 6015
To forward ports, open up this guide by Ubisoft, go through it, and perform all the steps needed for port forwarding. Note that any closed or limited NAT type on your device can block you from experiencing multiplayer. This step will help you get rid of the issue.
6) Flush DNS:
This step is pretty simple but may play an important role. To flush DNS, simply run the Command Prompt as administrator [right-click and choose the option], and then type in the following command: ipconfig/flushdns. Once done, press Enter.
Also Read: How to invite friends & play multiplayer in Rainbow Six Siege (2022)?
How many GB is Rainbow Six Siege in 2022 on PC, Xbox & PS4, PS5?
7) Try resetting the Hosts file:
Ubisoft says that this small text file on Windows may be causing an issue with Rainbow Six Siege's multiplayer option. The Hosts file is responsible for redirecting online traffic and may be blocking you from using the multiplayer mode. Here's an extensive guide on how you can reset the Hosts file for Windows.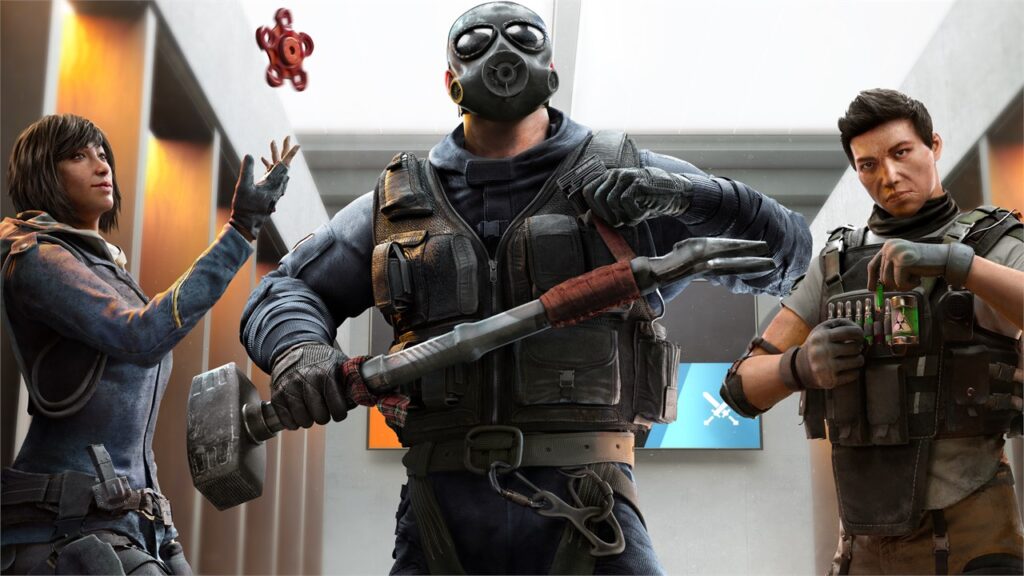 Done with network troubleshooting? What's next.
That's it. At least one workaround from the above list should be able to solve the problem for you. If not, it is likely that Ubisoft is experiencing a server issue. You will usually be notified about server maintenance in the game; during server downtimes, you may find yourself unable to use multiplayer. For example, many players were unable to access the multiplayer component when Ubisoft took down the servers for maintenance on February 23, 2022:
🛠 Maintenance 🛠

There will be an infrastructure maintenance today, February 23rd, on consoles.

🎮 At 09:00 EST / 14:00 UTC on Xbox
🎮 At 10:00 EST / 15:00 UTC on PlayStation
⏱ Downtime: ~1 hour pic.twitter.com/EdpyH7Au86

— Rainbow Six Siege (@Rainbow6Game) February 23, 2022
Also, make sure that you complete pending updates. Incomplete updates [both the game's and your device's] can cause major issues with the game's functioning; patches usually address multiple bugs including connection errors and multiplayer not working issues. If you need more help with this problem, you can also contact a Ubisoft agent via live chat. For more articles, stay tuned to Androidgram!