DLCs aka Downloadable Content are responsible for maintaining consistent engagement of the players in a game. DLCs provide new content along with new and interesting stories which are widely appreciated by players from all over the world. Well, with the recent release of the business simulator, Jurassic World Evolution 2, many players are wondering when the new DLC for this game will be released. If you are wondering the same thing, then this article is perfect for you. Continue reading to know more.
Released on 9th Nov 2021, Jurassic World Evolution 2 is the most anticipated sequel to the Jurassic World Evolution game which was introduced back in 2018. Featuring a new world along with new missions and tasks, the newly released title of the Jurassic World Evolution franchise is grabbing a lot of attention. Well, as the game is released recently, many players are wondering when the DLCs will be released for the game and we are going to share all the details on this.
Well, Jurassic World Evolution does feature a ton of DLCs that are currently available for purchase on the official Jurassic World Evolution website. So it is only fair to say that the newest title will be featuring some really interesting DLCs as well.
Did you know that Jurassic World Evolution 2 GPU drivers crashed during launch? For more information on this, visit here. 
Jurassic World Evolution 2 DLC Predictions & its Release Date
The first expansion pack released for Jurassic World Evolution was back in Nov 2018 which was roughly around 5 months after the game was officially released. So, we can expect the same for this title. Well, it is not confirmed yet, but according to your prediction, we might get to see the first DLC for Jurassic World Evolution 2 in April 2022. However, note that this is just speculation and not any confirmed update. We also have information that there are going to be at least 3 DLC coming in the future for the game, which is listed below:
Dinosaur packs DLC
Pterosaur packs DLC
Marine reptile packs DLC
Campaign DLC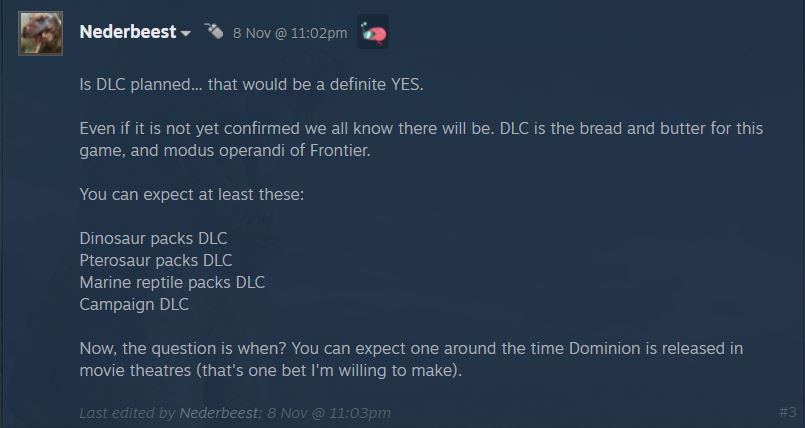 Well, we still need confirmation on this. If more information regarding this is released, we will be updating this article accordingly at the earliest. For more information on new games, make sure to stay tuned with us on AndroidGram.